As a Portlander and a native to the Cascadia region, of course I enjoy spending my free time cultivating bonsai hazelnut trees.
But how to share these miniature orchards with the ravenous holiday shopping crowd?
As the holidays approach, it's the perfect time to learn a bit more about what makes my customers tick! And here's how you can too–with Wufoo!–whether you're gearing up for a holiday sale, or getting a head-start on your strategy for 2017.
Engage customers on your social channels
When you're planting the seed for your holiday offerings in your customer's mind via social media, one option to help increase engagement is to include a link to your Wufoo form to learn more about your customers' holiday plans, seasonal budgets, or just their favorite colors! You can share your form on Facebook, Twitter, Google+, LinkedIn, or through Email automatically within Wufoo in the Share options for each form.

Get to know them and keep 'em warm
Year after year, customer feedback echoes in my ears, "Make those hazelnut trees smaller Cody, smaller!"
"Ask and ye shall receive", I say! And I would pour over my bonsai literature yet again.
Once I had curated a lovely newsletter illustrating my tree miniaturization process, I turned to Wufoo to help sign people up. Whether you're using MailChimp, Campaign Monitor, or a number of our other integrated email marketing solutions, you can invite all of your fans to your mailing list by sharing your Wufoo form. Each form can be connected with a variety of other services using our integrations to help keep your data consistent and up-to-date.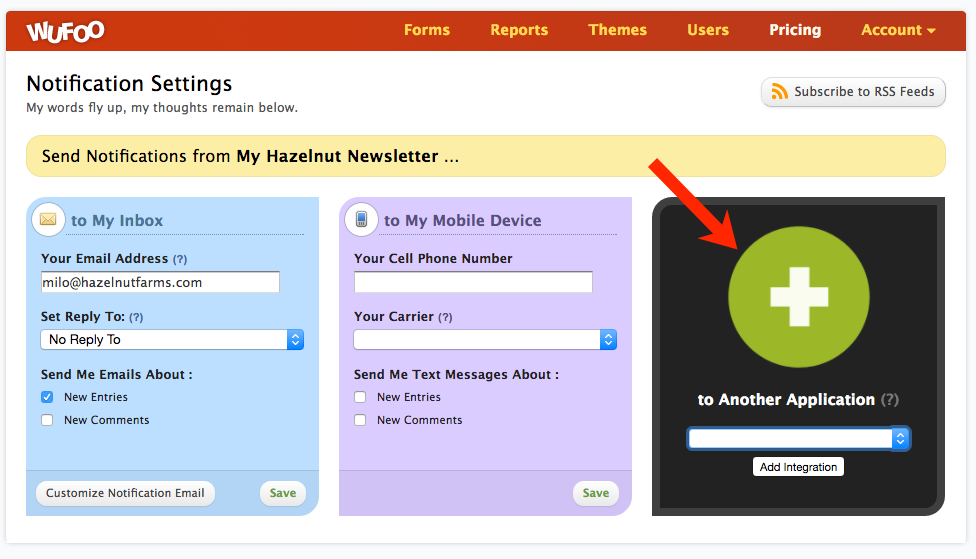 Send them targeted campaigns and coupons
To automate one step further, you can use fields in Wufoo to automatically segment your MailChimp subscribers into interest groups in MailChimp. Using this method, I've customized content to each of my hazelnut-loving demographics to help give them what they want to see most–tiny tiny trees, as far as the eye can see.
Since I'm processing payments through my Wufoo form, and I know the only thing that hazelnut-lovers love more than hazelnuts are amazing deals, I've used Wufoo's Rule Builder to create a special coupon code just for my newsletter subscribers. Take a look at this guide on using Rules to add a coupon code to your forms for your holiday promotions.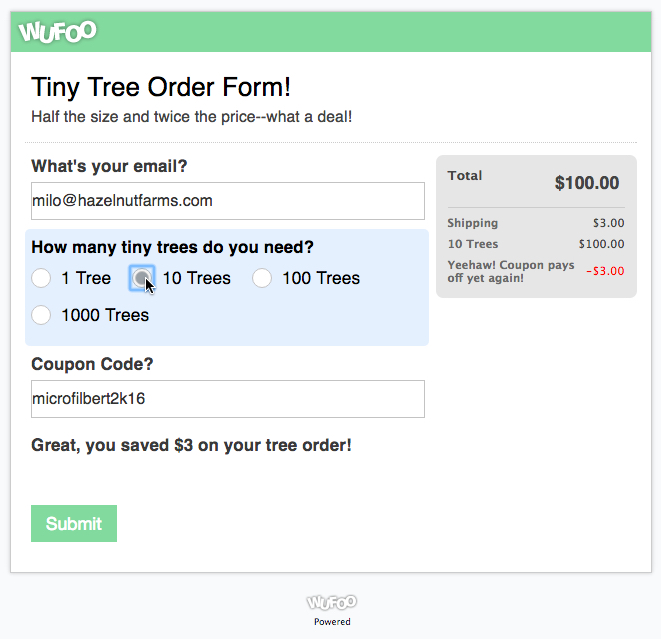 Once you've collected your customer opinions and suggestion from all of your social marketing channels, take a look at how your data stacks up in our Report Builder.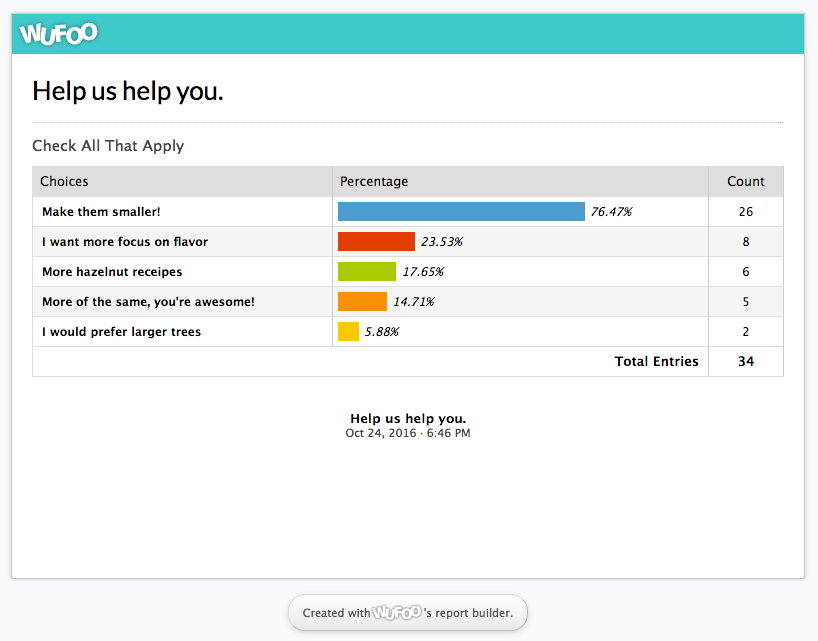 Yet again, with a concise and unified voice, my customers have demanded that I, "Make them smaller, Cody!"
I suppose it would be nuts not to listen. I guess I have a hard row to hoe in the coming months, as I imagine you do as well! I wish the best of success to you and your business in the holiday season, and best of luck in the new year.
If you are in the market for miniature hazelnuts, well, we're back-ordered until May.