As part of the grand tradition of inviting our partners to publish relevant guest posts in Wufoo blog, we are happy to feature a powerful ecommerce application, X-Cart that integrates well with Wufoo web forms.  Our friends at X-Cart are here to walk you through a few easy steps to setup the integration.
If you've got an eCommerce store, you know your site isn't a one-way street. You need to collect email addresses, event registrations, customer feedback, online orders, and more. So it's important to embed a well-designed online form can get you that info, fast.
How do we know? At X-Cart, it's our job to give people an easy way to sell stuff online. That's why we integrated our eCommerce platform with Wufoo. Now anyone who uses X-Cart for their online stores can easily embed online forms into their website or mobile app, all without typing a single line of code.
Why else use Wufoo with X-Cart?
Save time using pre-designed forms

. With a huge choice of more than

400 customizable templates

for a variety of business types, there's no need to create your own template. Just grab the one you like most and embed it into your X-Cart website.

Rest easy: Your credit card payments are secure

. Easily integrate your forms with the most popular

payment providers

on the web like PayPal, Stripe, and Authorize.net. From 256-bit SSL encryption to smart CAPTCHA, Wufoo takes your data security seriously.

Track performance with dynamic analytics dashboard

. Track your form performance with

Google Analytics

and analyze crucial metrics with Wufoo's Report Builder.

Add a form to your store, no coding required.

X-Cart's WYSIWYG editor will let you add forms in a few clicks by choosing them from the 'Wufoo forms' dropdown in the settings menu.
How to use Wufoo forms with X-Cart?
Now, that you know a thing or two about the value of web forms built into your eCommerce website, it's time to put your knowledge into practice.
As an X-Cart employee, I tried to add three different types of forms in my test store, just to check how it works. Here's how easy it is.
To add Wufoo to your store toolkit, log into your store back-end and enable the Wufoo – online forms app in X-Cart Marketplace.
Next, go to Wufoo's website to set up your form. Due to drag-and-drop functionality and a wide range of tweaking options, this extension helps you easily build forms and customize them completely–no coding needed.
When everything's ready, go back to your store back-end and add it to any static page in your store in one click.
Tips for adding forms to your X-Cart store:
Here's an example of an embedded Contact Us form:
Just a few fields — a name, an email and a message — won't drive your customers mad. Moreover, it's quite clear what is going to happen after the form is filled — "our sales rep will be in touch in a few seconds."
And check out this newsletter subscription form you can use to build a great email list for your marketing efforts: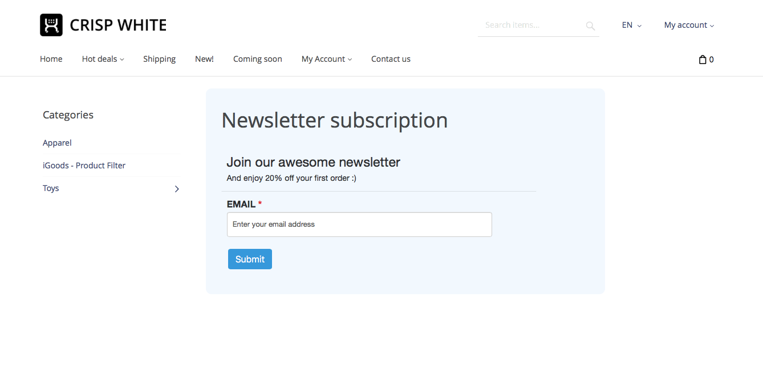 A clear call-to-action and a limited number of fields here (just one, hah!) will help you boost your form's conversion rate. Pro tip: Customize your form's look and feel so it matches your brand for a consistent customer experience.
And, of course, you'll want to use Wufoo to create online order forms to give your customers an easy way to buy products from your website: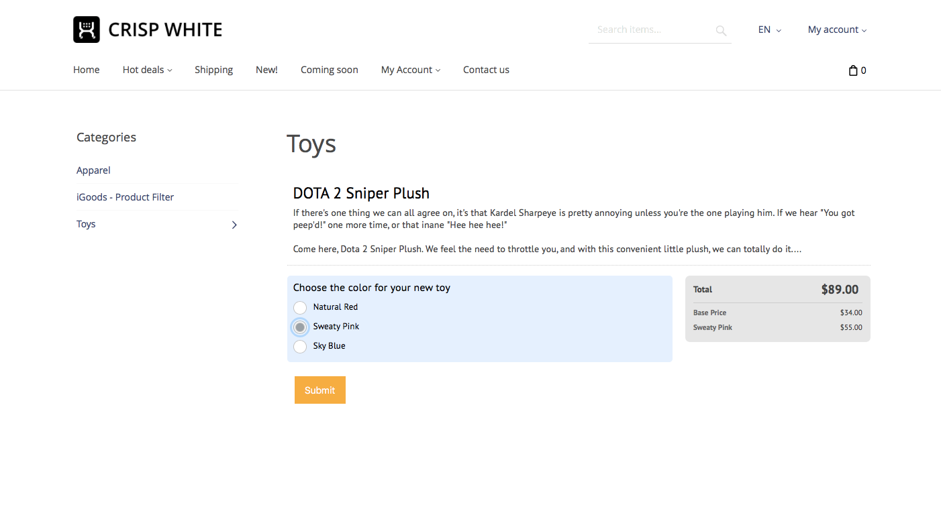 Add an order form into your shopping cart to arrange paid workshops or sell tickets in a separate page. Or you can sell complementary goods from your partners that shouldn't appear in your store inventory and order history.
Add a payment integration feature on your form, choose a payment processor (I've chosen PayPal Standard), currency (I'd like my users to pay me in dollars), and make a few more settings. I decided to assign prices based on choices a user selects. That's how flexible it is.
Remember: You don't need a developer to code an online form for you. Just build it yourself in minutes and embed it into your eCommerce site with Wufoo's handy X-Cart integration.