Impress your clients from the start with your project prowess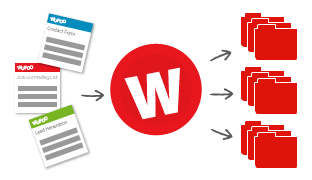 Before I came on board as an engineer here at Wufoo, I was a freelance developer for about seven years. Most days, I'd tell you I had the best job in the world. Others, the worst. That's just how freelancing works. Sometimes you get great projects and great clients. Other times, you're stuck adding jQuery animated snowplugins because your client "really wants the site to pop".
As I progressed through my freelance career I learned a lot of lessons that made my projects go more 'smoothly'. Smooth projects means happy clients. Happy clients almost always means more referrals, more money and best of all, more free time to improve my coding skills.
Improvements
After each project, I looked back and asked myself–What could I have done to make this project even smoother?
Simple things like:
Coming up with milestones for myself as well as the client
Only communicating with one person for the approval process
Giving the client direct access to my tickets system so they could see my progress on any task
And MOST IMPORTANTLY:
Be organized from the very beginning
It's important that your clients know that you have a structured way of doing things, and aren't just making it up as you go. You're the expert so be sure they know it too. They rest easier knowing that you've done this before.
Using Wufoo As A Developer
Long before I starting working at Wufoo, I used Wufoo for any client looking to collect data on their website. Why?
I didn't want to manage a database and forms for them
I knew their data was always accessible and safe
Generating reports on their data was easy
They made it ridiculously simple to take payments for the clients that wanted it
Before long, I was using Wufoo for everything–creating client tickets, getting content from clients, even for my own wedding. Yep, our RSVPs came in thanks to a Wufoo form.
One of the things that helped the most was creating a form for all new client projects to get all the info they had for the upcoming project. A Web Project Starter Form helps in so many ways.
It forced clients to know how prepared they were when we started a project
It gave us something to refer back to if the scope changed
It gave me instant access to all of their setup info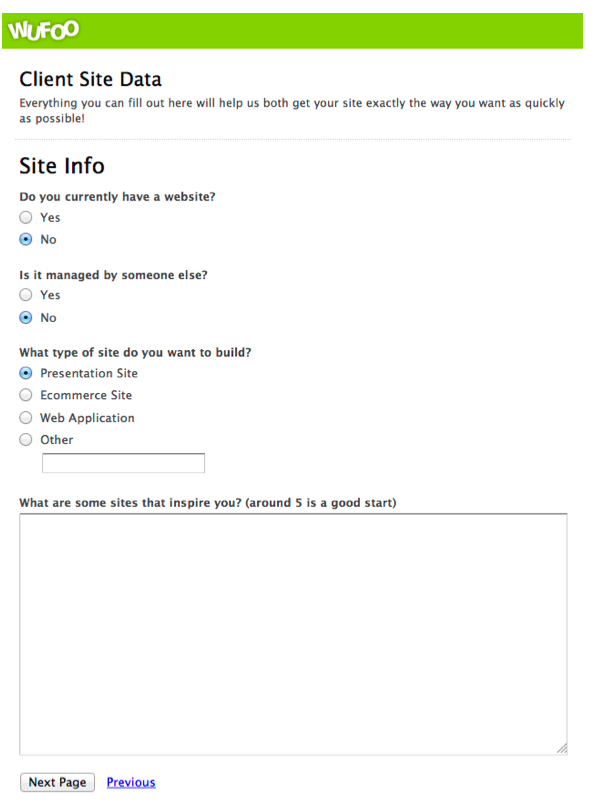 Web Project Starter Form
Before sending out the form, I always sent a message beforehand to the client. Here's an example:
I'm really excited to get started on your project. In the meantime, I've made a form that will really help us get off to a solid start. I know it will take a little while to get through it, but it will save us tons of time on the project itself.
Looking back now, I can't believe how easy it was. I got a solid idea of the type of client as well as the scope of project I was working with. After creating the form once, all I had to do was send them a link–Bam, done.
Behind the Scenes
I designed my page and embedded the form with a Javascript snippet so it used my own URL. All of Wufoo's plans are on SSL. So, I'd subtly mention–You can fill out this secure form on my site. Adding a password to the form confirmed their trust and sense of security even further. I used tons of field rules and page rules to keep the form as customized and as short as possible. Not only did this make the form appear smaller and showed off the customizable features, it proved to the clients that I had thoroughly thought through all processes with the information given me.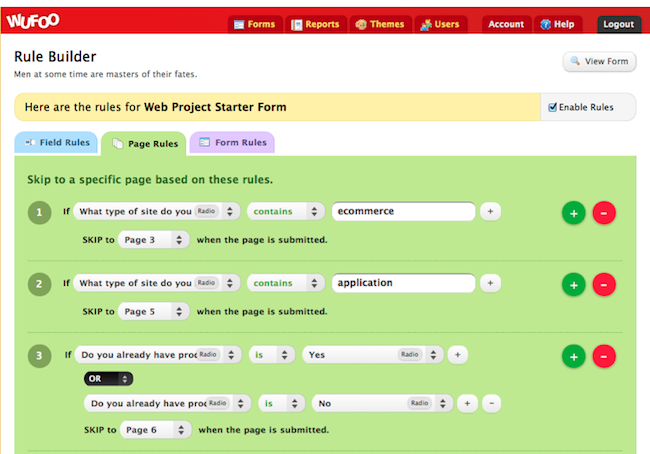 Page & Field Rules in Wufoo
Sometimes I'd give them a custom URL that pre-populated their name and company. I always finished up with a customized response email using a Wufoo template.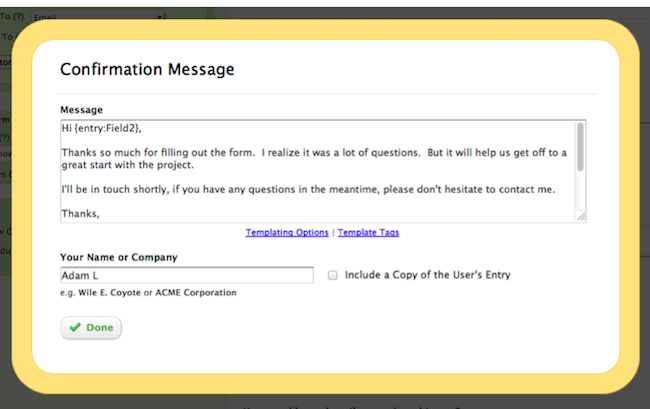 Customized Email Template in Wufoo
Creating a Web Project Starter Form was just one of the ways I used Wufoo to make my life as a freelance developer easier. But there's always new ways to make your projects go smoother…In a future post, I'd love to show you how we could use the API to take this form and Customize a new Github Repo, create Asana Tickets, Evernote Notebooks and more.
Got ideas for how to improve the form? Let Adam know and he just might whip it up into a reusable template for everyone!
Adam Lichtenstein is a front-end engineer and designer for Wufoo. He's terrible at Ping-Pong but plays it anyway. Questions for him? You know where to go.