Hello fellow dinosaur lovers!
Who doesn't like being able to choose their own adventure? With Page Rules, you can create a unique experience for your form-fillers by navigating them to different pages, skipping over other pages, and ultimately creating different form journeys for everyone filling out your form.
For the sake of this walkthrough, we'll be using music festivals as our example for this 'build your own adventure' form. But, this guide can also be used as a resource for any form where you need to group questions together on different pages, and only show certain pages to specific form-fillers.
So, let's say we have an upcoming festival, and we're looking to create a volunteer registration form. We have four distinct volunteer roles that people can sign up for: Film Crew, Food Crew, Parking Crew, and Ticketing Crew. We'd like to ask really specific questions about each role, to make sure that the individuals have experience specific to the role they're registering for. But, we don't necessarily want someone signing up for the Food Crew to be asked about the years of filming experiencing, or the Parking Crew to be asked if they have their food handlers license.
Well, not to worry. We can create a customizable experience for every one of those eager volunteers!
To get started, we'll add some fields to our form that ask for pretty general information, such as the volunteer's name, email address, phone number, etc. Then, we'll add in a multiple choice field asking what role the individual is applying for.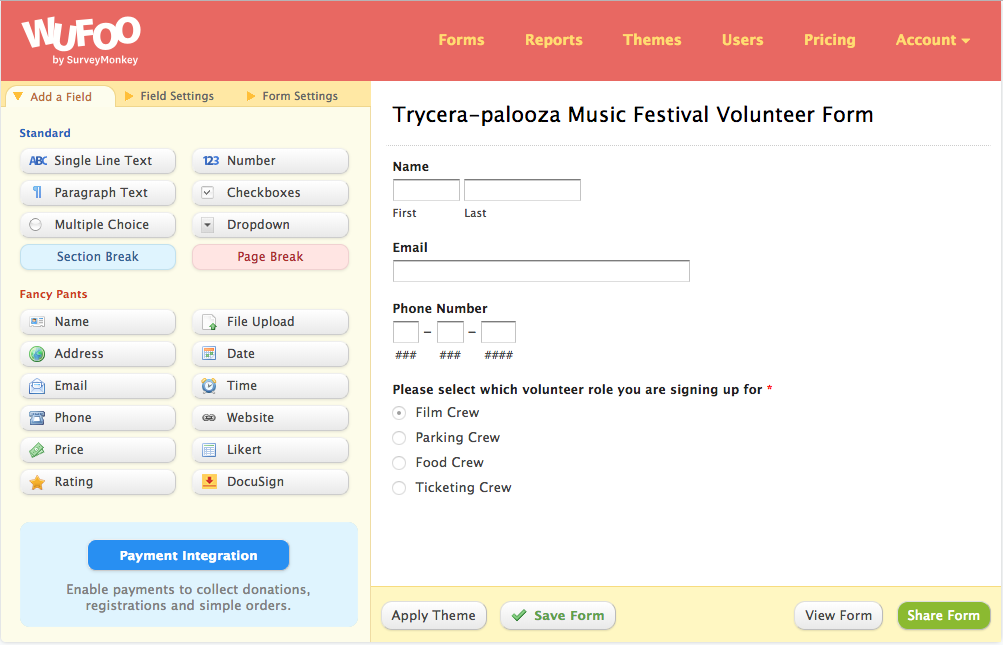 Once we have our more general questions all laid out, it's time to add in the different pages. We'll start by adding in our first page break. To keep things consistent with our multiple choice question, we'll dedicate that first page to the Film Crew registrants. Following that page break, we'll insert the questions specific to this role. Having limited experience with cinematography, bear with me here on my questions.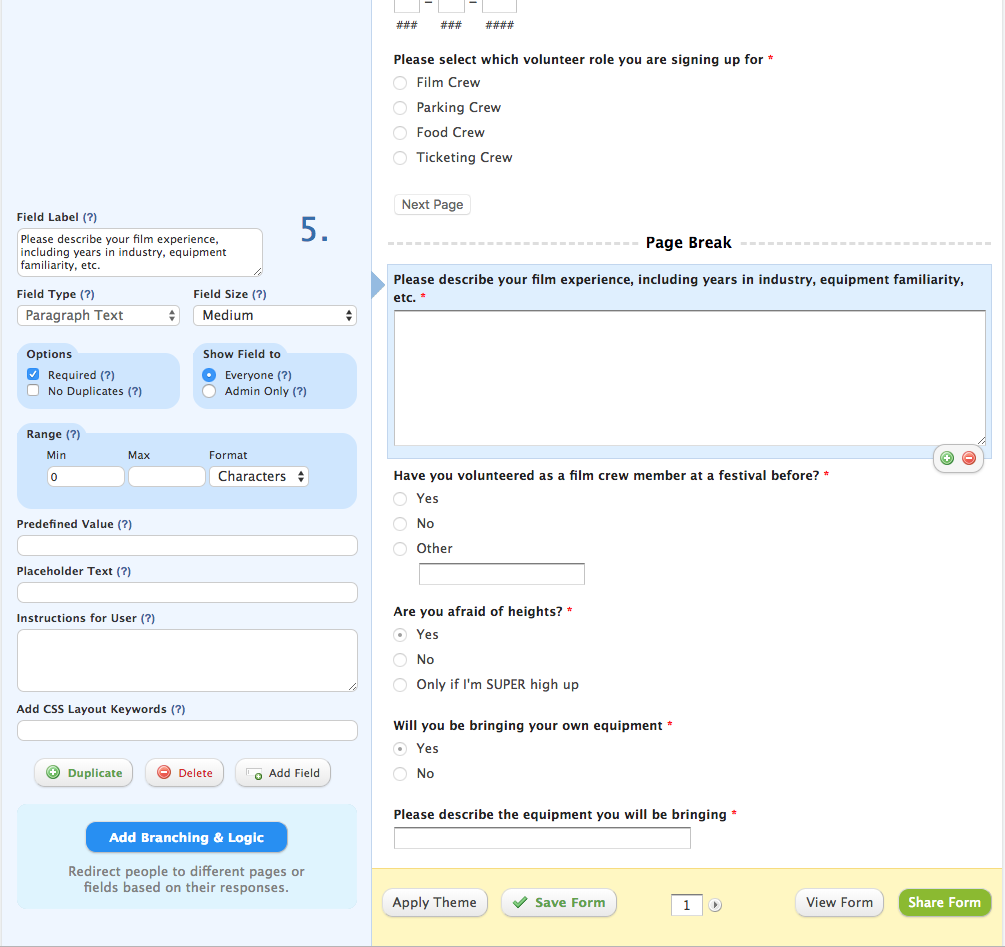 Perfect. We have our first page! Now, we can add another page break, and then add in questions specific to the Parking Crew. We'll do the same for the Food Crew and the Ticketing Crew, bringing our page total to 5!
Now, the moment we've been waiting for. Time to add in those Page Rules. To get to the Rule Builder, head back to the top of the page and click 'Forms'. From there, hover over the 'edit' tab for that form, and then select 'Add rules'. Go ahead and select 'Page Rules', and set up the first rule. For this first rule, we want anyone who is registering for the Film Crew, to be routed to page 2, where the Film Crew-specific questions are. So, we'll set up our rule as: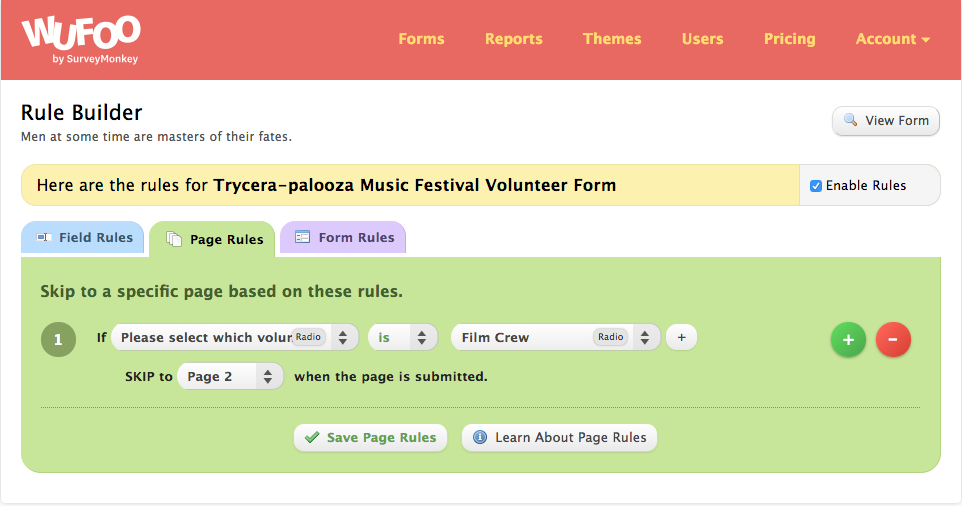 Now, we'll click that '+' button, and add in a rule for the Parking Crew, followed by the Food and Ticketing Crews.
This page should now look something along the lines of this: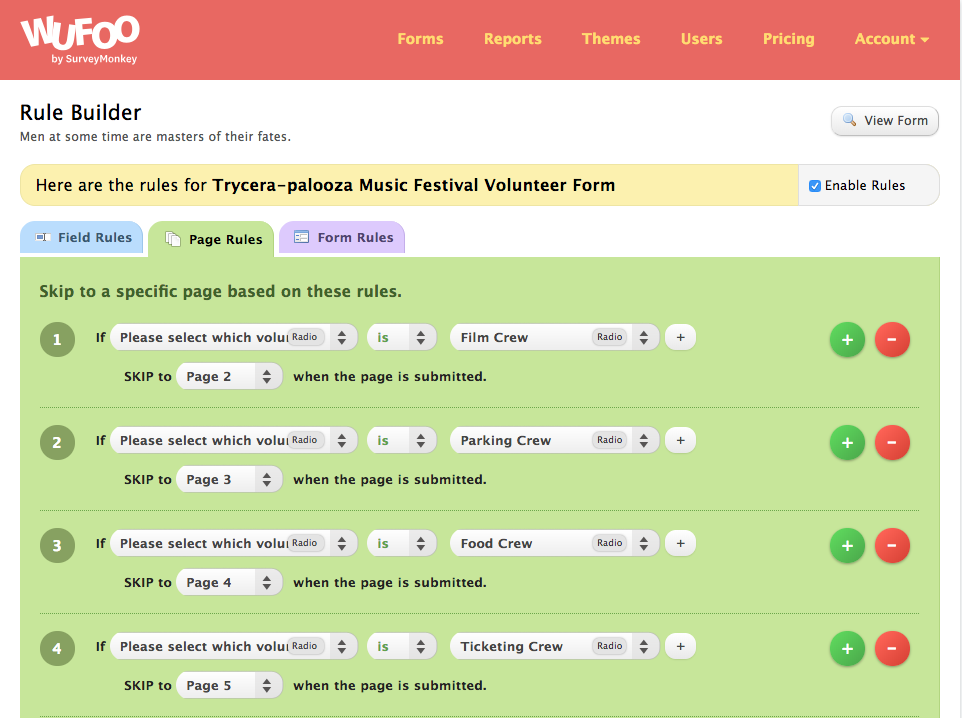 We can go ahead and test this all out to make sure everything is running smoothly! You'll notice when you test this, that if you were initially skipped over to page 2, 3, or 4, you were then routed along to the next page in the sequence. So, we'll need to add some additional rules so that if you end up filling out page 2, you're skipped to the Confirmation Page rather than over to page 3.
For folks that end up on page 2, filling out information for the Film Crew, I'm going to set up the Page Rule so that if they fill out a question on page 2, they are then skipped to the Confirmation Page.
One thing to note here, is that you'll want to be sure the question you've based that rule on is a required field. Otherwise, if that question is left unanswered, the rule won't trigger and the form-filler will end up being directed to page 3 instead of the confirmation page once they hit 'next'.
Since I've set up all the fields on this page to be required, I can base my rule off any of the questions on this page. We'll set this rule up so that if the question 'please describe your film experience…' is not 'blank', (i.e. if they enter in anything into that field), they'll be redirected to the confirmation page once they hit the 'next' button.
We'll repeat this for the other pages as well. The only page that doesn't need a Page Rule is page 5, since by default it will redirect to the next page in line, which is the Confirmation Page.  
Your rules will look something along the lines of: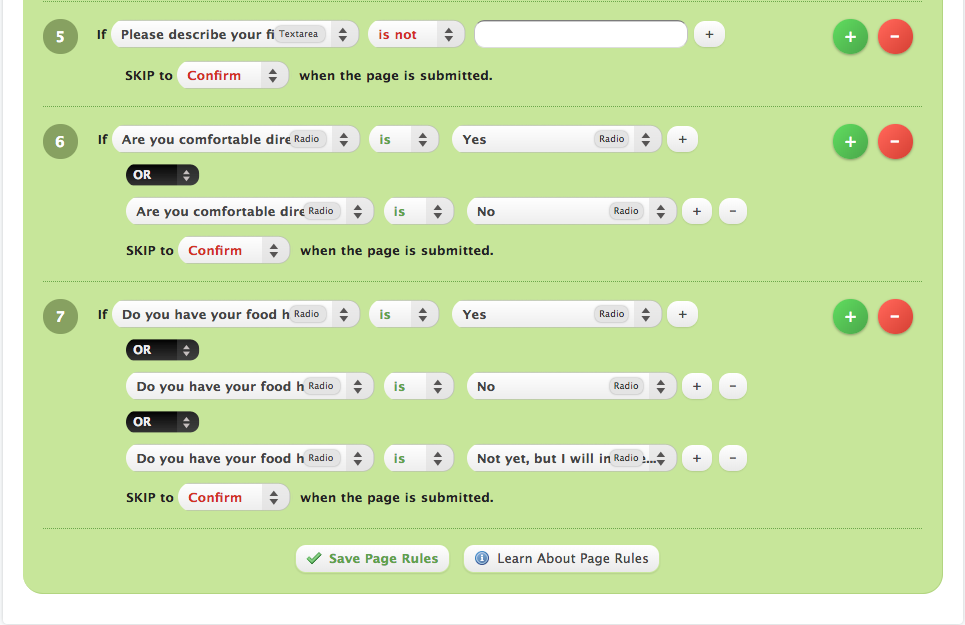 Depending on how you set up your questions, your rules may look a tad bit different. Not to worry! Essentially, if you have a Single Line Text or Paragraph Text question, you'll create a rule for if 'question x' is not 'blank' skip to Confirmation Page. Otherwise, if your questions are multiple choice or dropdown fields, you'll create a multi-conditional rule so that no matter what choice is selected, the Page Rule will trigger. See rules 6 and 7 above as examples.
And there you have it! Definitely do some testing here to make sure everything is skipping as it should be. Rules can get tricky, so if you run into any trouble, we're happy to help. Most importantly have fun building your own form adventure!