It's easy to collect files like images, resumes, and health records with your Wufoo forms. You can always store these files in your File Manager—but did you know you can also save them to Dropbox?
Dropbox lets you secure and manage all your files in one place. Send your form attachments directly into Dropbox to save time and keep your business running smoothly. Store attachments securely on the cloud, sync them to all your devices, and share them across your organization. It all starts with the Wufoo + Dropbox integration.
How to integrate Wufoo and Dropbox
There are two easy ways to use our Dropbox integration. You can start with our ready-to-go template (the fastest option) or manually integrate any Wufoo form that has file attachments.
The Dropbox File Upload Form jumpstarts file sharing between Wufoo and Dropbox. You can edit this form template and then connect it with your Dropbox account in just a few easy steps.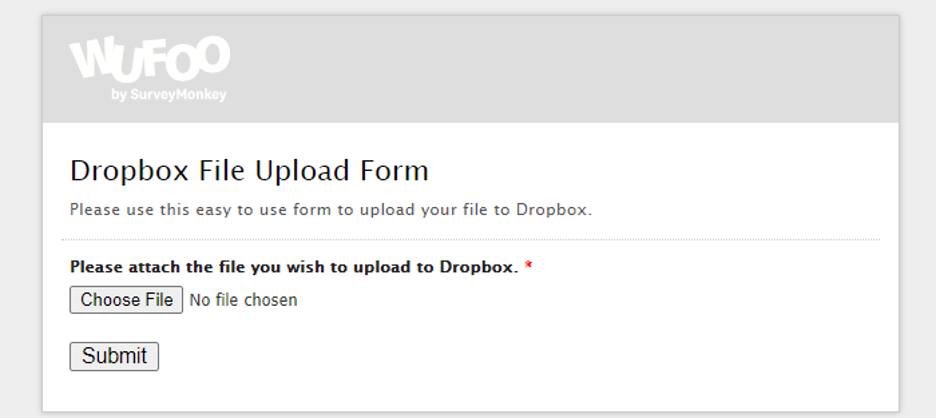 You don't have to use this template to migrate attachments into Dropbox though. You can connect any Wufoo form with Dropbox—as long as it has a File Upload field (included in any of our paid plans).
What can you do with the Wufoo + Dropbox integration?
Once you've set up the Dropbox integration for your Wufoo form, any form attachments will immediately land in Dropbox. Here are a few nifty things you can do with this integration:
1. Organize your file submissions
Wufoo + Dropbox can make it easier to manage form attachments and streamline your work.
Keep your files organized by sending them to the right Dropbox folder on the first try. You can either create a new folder for each form or save the attachments from multiple forms in the same folder—whatever makes it easier for you to organize your files and do your work. If you award grants on an annual basis, for example, you might want to separate submissions by year.
You can also find out who submitted an attachment just by looking at the file name. Wufoo prefixes file names with the entry number of the form respondent. So, for example, the resumes of your first two job applicants would be 1-resume.pdf and 2-resume.pdf in your Dropbox folder.
2. Store your files securely
Dropbox helps you secure important files to meet data security regulations. When you sync Wufoo and Dropbox, your attachments won't be accessible in your File Manager any more. Instead, anyone who wants to access the file will need permission to open the Dropbox folder.
It's a lot easier to customize permissions for different attachments in Dropbox, which lets you secure important data like health and financial records. For example, you may want to restrict access to Expense Report and Reimbursement Form attachments to just a few employees on your finance team.
3. Share access to files
Dropbox can restrict who has access to attachments, but it can also make it easier to share files with other people. If you already use Dropbox to store files across your organization, you may have more employees who use Dropbox than Wufoo. That presence on the app makes it easy to grant permissions for folders or specific documents, so you can get files in front of the right people.
You can also seamlessly funnel form attachments from Wufoo into a shared Dropbox folder. For instance, you could set up a shared folder that gives IT support reps immediate access to any screenshots that customers attach to your business's support request or Bug Tracker form.
Wufoo + Dropbox helps you build customer relationships
Our Dropbox integration helps you take care of customer data, so you can increase customer trust in your business. It lets you secure and store customer data so you don't have to request files from customers twice—it's hard to lose files that automatically pop up in the right Dropbox folder!
If you accept work orders or other custom orders, you can use the Wufoo + Dropbox integration to build better long-term relationships with customers and clients. For example, a freelance graphic designer might collect and store style guides and other attachments from an online order form or a Web Banner Design Request Form, so they can track and fulfill each client's requests and requirements. (Want to make order fulfillment workflows even more seamless? Try Wufoo + Asana.)
Are you excited to dig into the Wufoo + Dropbox integration and do more with your file submissions? Keep in mind, there's more integration awesomeness where this came from. Check out our lineup of integrations, including our Zapier experience and most popular apps.